The Trill Tri-factor.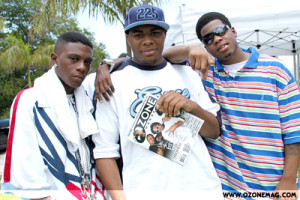 In this picture you have a throwback of three Louisiana legends. Responsible for the culture change of  music in Louisiana, these three created a recipe that definitely could not have been duplicated.  After almost 15 years in the game, in my book, it's safe to say that these three left a street legacy in music. In every ghetto in America, somebody somewhere has a CD, iPod, or laptop, with a song made by Boosie and Webbie over a Mouse track. Gangsta Musik was the album that debuted the new sound that took over the streets and eventually led to Trill Entertainment's nationwide deal. These three had a chemistry like no other. Gangsta bass lines and heavy tuned 808's under ghetto stories and hood episodes. Since the release of Boosie after a 4 year bid, it's only right to expect  a 'Gangsta Musik 2″ album with a heavy dose of these three legends. Keep your eyes and ears glued to the streets. I can smell one coming.
You may also like...